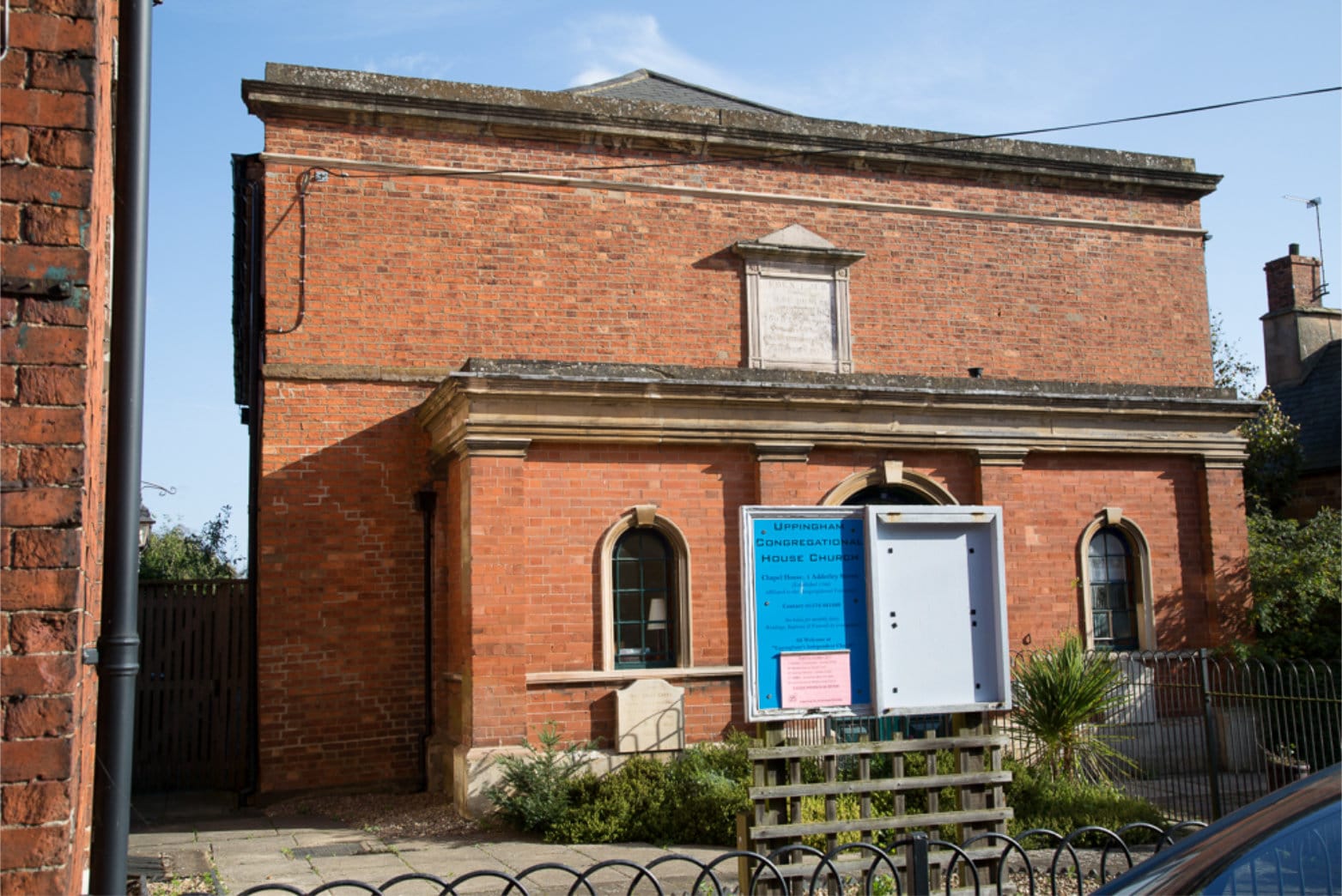 The Congregational Chapel
In 2005 the former Congregational Church was converted into apartments ending 200 years connection with the site, though not with the church which continues to worship in the adjacent manse at 1 Adderley Street. Such was its importance in the town for much of the 18th and 19th centuries it even gave its name, Chapel or Meeting Lane, to the street.
The Independent Congregation of Dissenters from the Church of England to give its full name, first met in a cottage in Orange Lane behind Goldmark's Gallery. In 1717 they purchased a barn from Rebecca Tookey at the bottom of the garden of the Wagon & Horses which they converted to a meeting room and residence for their minister. Here they continued until the arrival of their new minister, the 24 year old John Green, at the end of 1807. A charismatic preacher of enormous energy, Green immediately set about raising money to build a new and larger church. In March 1814 the Ebenezer Chapel as it was then called, opened; built to seat 350 worshippers at a cost of £942 of which £650, 17s was raised in Uppingham. Later additions were the front entrance porch and schoolroom behind. In time were built a new manse (part of the old manse survives as the kitchen at the side) and a school in North Street.
Green served as minister from 1808 to 1858. In his time he built a congregation rivalling the parish church in numbers – to the alarm and fury of the incumbent – including a majority of the town's shopkeepers. He died in 1868 and is commemorated by memorials on the front of the church porch.
Diminishing attendances in the course of the 20th century and the congregation dwindled to single figures that even with endowments inherited from earlier, more prosperous times, meant the church could no long afford its upkeep. In 2005 it was sold to be converted into apartments. The manse was retained, occupied by their pastor and where services are now held.
More information http://www.uppinghamhistory.org.uk/nonconformity.htm