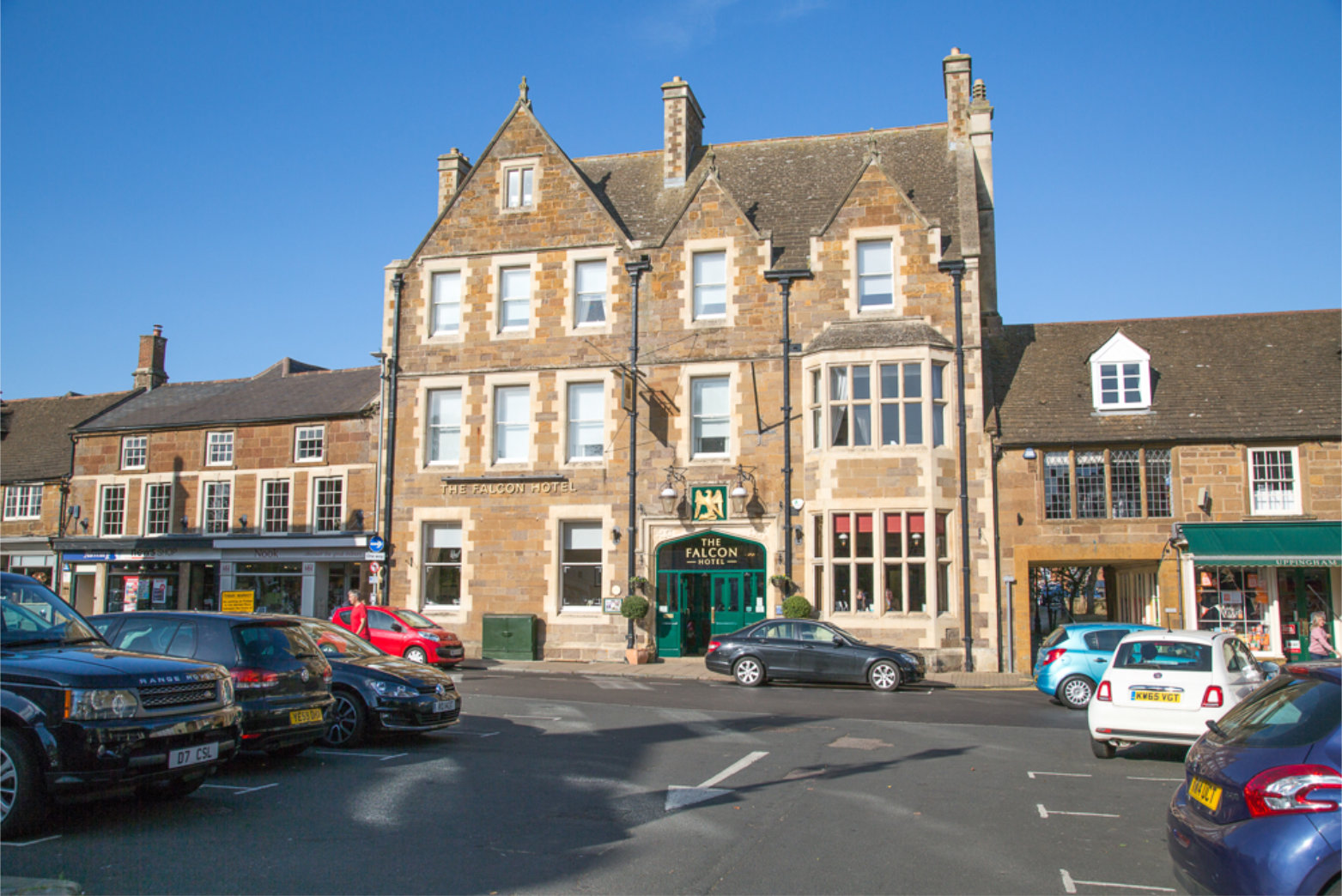 The Falcon Hotel
The Falcon Hotel has a dominating presence in the Market Place which was given a Royal Charter in 1281. There may well have been an inn on this site for hundreds of years, as there were many inns in Uppingham in the Middle Ages.
Today's Falcon was built in the C17 of local stone as a coaching inn, ideal for stabling the horses on an overnight stay. Regular stage coaches would run between Stamford and Leicester; and when the north –south route opened in 1754-55 the London Mail and other such coaches, were unable to negotiate 'Scale Hill' now the A6003 south of the Market Place alongside the church and much steeper in those days. Instead they turned right at the bottom of the hill along South View and then up Queen Street , then known as 'Horn Lane' as coachmen would sound their horns to alert the Falcon Hotel of their arrival where food , and a change of horses, would be waiting.  The entrance archway through the middle of the building would allow coaches to unload in the dry.
In 1804 the hotel was owned by William Bellgrave who owned the adjoining property and five other buildings in the vicinity of the Market Place. He was listed as a draper and lived in 'Tudor House' in High Street West. In 1875-77 the hotel was extended upwards with an additional storey, when the Earl of Gainsborough, whose estate of Exton is near Oakham, was the owner. The death of the 2nd Earl in 1881 lead to death duties which placed a severe burden on the already struggling estate, and as a consequence the 3rd Earl put the Falcon up for Auction. This was held at the Crown Inn in Oakham in 1882, and bought by Peter Fryer, who was probably manager at the time. An early example of a 'management buyout'!
Early photographs show a sign to the right of the middle arched entrance declaring it to be the 'Falcon Posting and Commercial Inn'. In recent years the arched entrance has been incorporated into the hotel's interior, and the rear stables converted in hotel bedrooms. The Hotel has recently had a new 'Collyweston Slate' replacement roof.