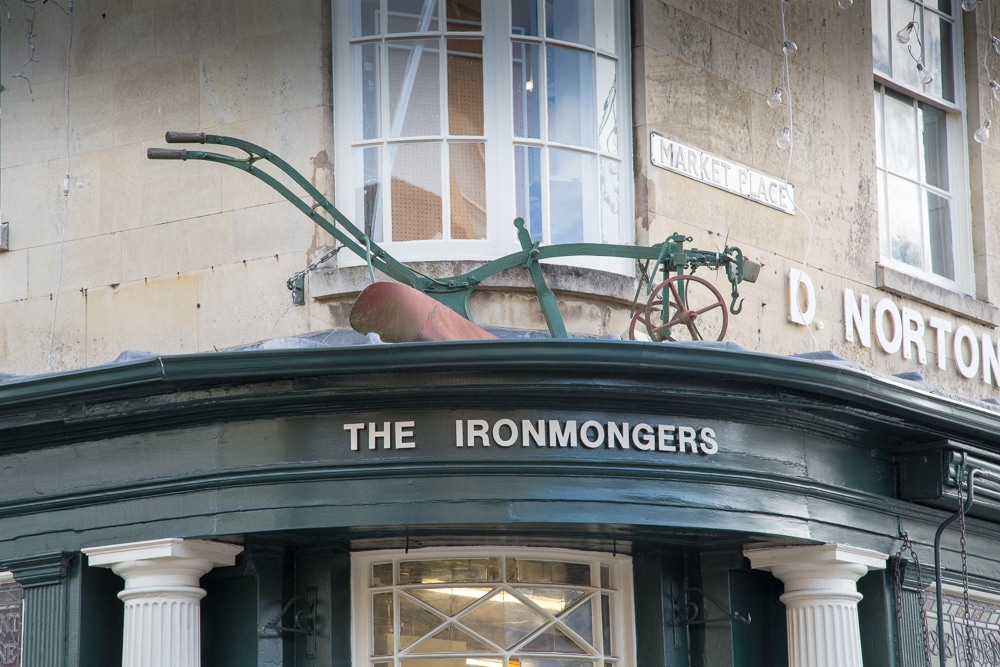 Norton's Plough
Records for the shop begin in the 17th century when this corner was known as Gibsons Shops, one of them an ironmongers. For much of the time No. 4 High Street East and 9 Market Place formed part of a larger holding, extending along the High Street as far as 10 High Street East and the other way to Allen's Dental Practice (No. 9 Market Place) including Printers Yard and the Sun Inn. From 1720 to 1759 it belonged to Henry and Rachel Pepper. Rachel and her daughter Elizabeth must have fallen out because in her Will she divided the properties between her niece and nephew leaving only £5 to the daughter to buy mourning clothes. Between 1775 and 1790 it formed part of William Belgrave's possessions. After he died the shops passed through several owners and tenants until in the mid-20th century they were acquired by Watkin Marshall ironmonger. Today D Norton & Sons own No. 4 only.
The first ironmongers positively associated with No. 4 is Robert Moore of Stamford, but as his grandmother Elizabeth purchased the shop in 1700 for £81 1s 6d, we may look to that date for the start. There followed a succession of ironmongers – William Belgrave only paid £80 for the property in 1790 – sometimes owners and sometimes tenants. In 1836 John Quincy Law purchased for £720 but when Marshall put the business up for sale in 1980, the asking price was £75,000.
In previous centuries ownership of the property carried with it the right to a pew in the gallery of the Parish Church and half a pew in the south aisle adjoining the middle pillar.
The original Gibsons Shops was a timber building with a jetty just visible in the 1820 drawing of the Market Place. It was rebuilt before 1840 in Fisher's time or soon after. From about the 1870s we have postcard views of the new building with names of the ironmongers – Foster (1864-93), Coltman, Mears (1901-25), Eaton (1925-45) and Marshall (1945-80). William Mears' name still appears in the shop window and an oven with Samuel Foster's name can be seen in the old kitchen at Rockingham Castle.
An unusual feature of the shop is the plough set over the shop entrance. Nobody now knows when or who first put it there. One can only assume that it may be what is called a Rutland Plough and that the shopkeeper responsible used it to advertise his wares.