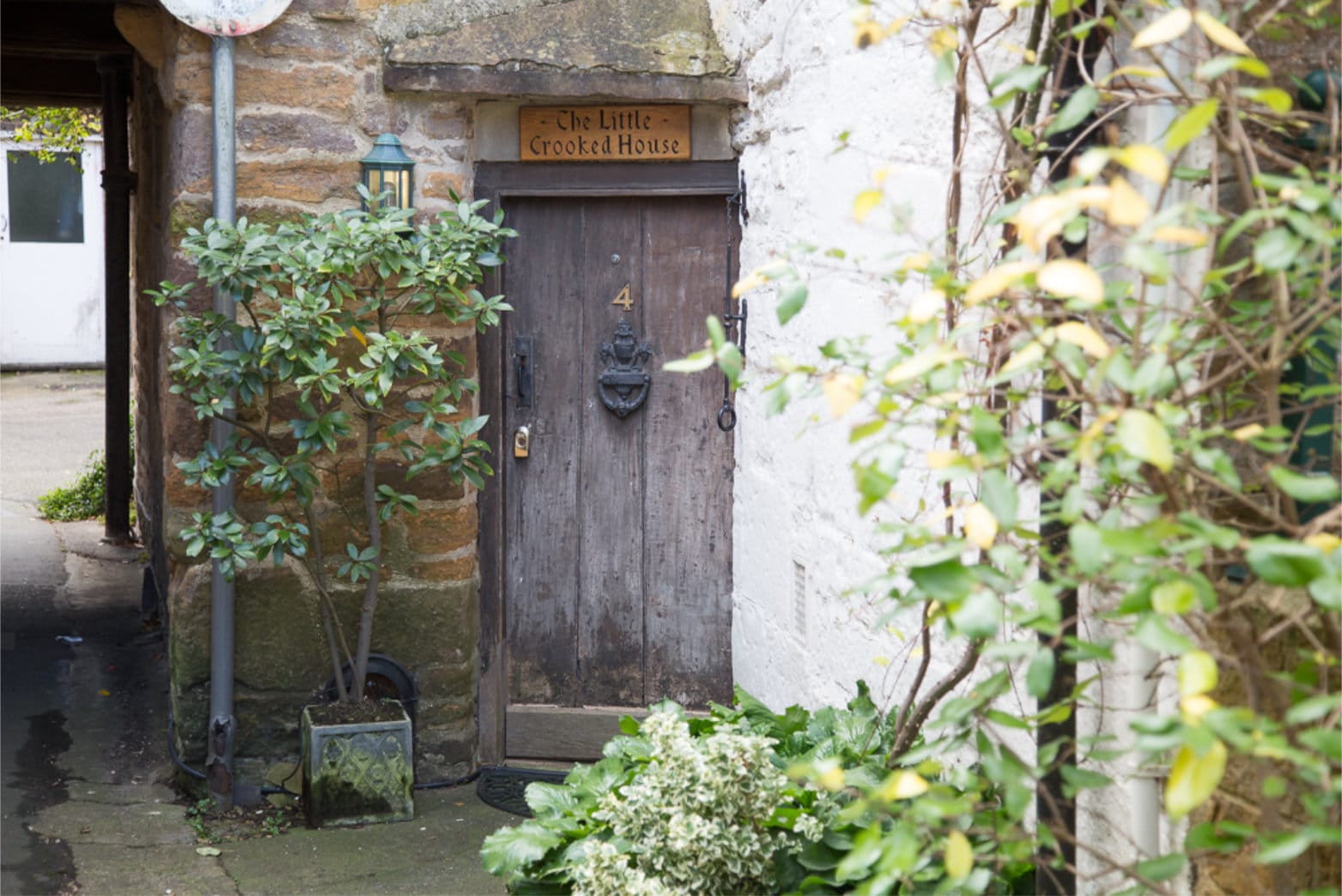 Hopes Yard
The Yard lies in the oldest part of the town. The 6th century Saxon farmstead that came to be known as the settlement of the people on the hill, otherwise Uppingham, developed where the ancient track from Oakham to Rockingham – Tod's Piece, Crown Passage, Reeve's Yard – crossed the ridge.
As the settlement grew the adjacent homestead comprising No's 13 and 15 High Street East and the land behind to North Street would have been one of the earliest to appear. Witness to this in Hopes Yard can be found two of the oldest features in the town. At No. 5 the Old Cobbler's Shop, an original small medieval oak mullioned window is set in the wall of the shop front that was revealed in the 1970s when Tony Traylen renovated the yard, turning it into a series of boutiques.
Older still is The Little Crooked House at No 4 which is ancient freehold from time immemorial. This must be the oldest continuously occupied residence in the town and only the parish church can be proved an earlier building. No. 4 has been identified as originally a small late medieval hall house with late 15th century roof timbers extant. The hall and Tudor fireplaces survive but the right of way now runs through the old screen passage while the cellar and buttery lie somewhere beneath The Old Bakehouse at No's 13/15.
Hopes Yard is not the original name. For many years in the 18th and early 19th centuries it was called Bullocks Yard after the family of bakers who lived in part of Stock's beside No 17, now the Antique Centre and after whom The Old Bakehouse is named.
The name Hope comes from their successors, three generations of chemists whose shop and home at No 15 is today Small's Outfitters. In 1821 William Hope arrived from Cheshire as manager of the Uppingham shop of Thomas Mills, the Stamford chemist. In due course he was succeeded by his son William Ash and then followed by his grandson Bertie who moved to Wellingborough in 1906 leaving Cornelius Bayley in charge.
By the end of the last World Ward, the yard was run down and some buildings derelict. In the 1970s the late Tony Traylen saved the area from becoming a car park when he bought and renovated the buildings, turning most into modern boutiques. To him we owe the fashion for redeveloping the town's yards that are now such a desirable feature of the town attracting many visitors.